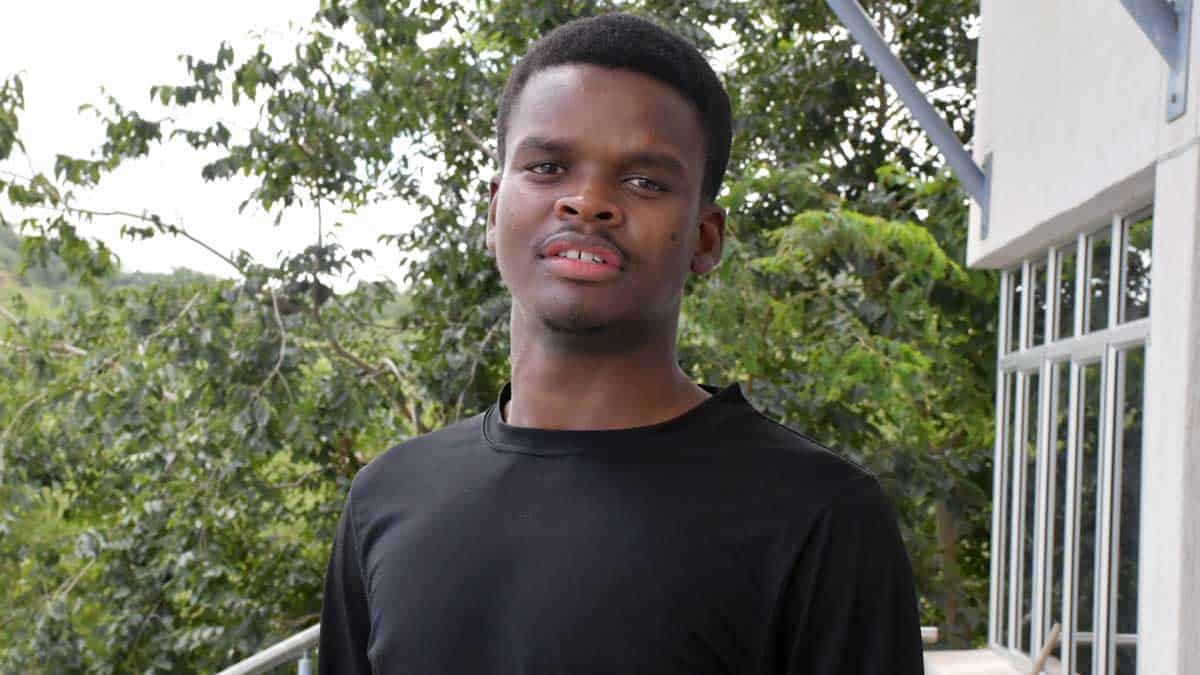 Lights, camera, action
As a little boy, Letsile Hash Moeti would sit glued to his parent's television set, with action movies his absolute favourite.
Never in his wildest dreams could he dare imagine that one day it would be him starring on the box.
Upon completion of his secondary school in 2017, Moeti followed his heart and crossed the border to South Africa to study Arts.
Two years later, the 22-year-old landed a lead role in the war movie 'Delville Wood', putting in an award-winning performance.
As well as starring in front of the camera, Moeti has also won rave reviews for his theatre work, with his latest production 'Pherekano' impressing the critics.
Currently in Botswana to perform 'Pherekano' at Maitisong in Gaborone on January 29th, Hash took some time out between rehearsals to chat with FRANCINAH BAAITSE.
You are a fast rising star in South African action movies, how does it feel?
Slowly but surely I am getting there.
I believe where I am currently there is always room for growth.
I just want to be a motivation to a lot of people in the means of understanding that this industry is hard work – and not only hard work but having to work smart, so for me I am just a motivation for most importantly Batswana.
Being an actor is not just about wanting to be an actor, it is about getting into the means of having to understand the depth of things.
I have an agency also, Lellana, to help others understand more about this industry.
I am going to do my level best to try and build this industry.
What drives you to reach those greater heights?
I am a very persistent person.
Just the name 'Hash' itself is because when I came to South Africa people would tell me, 'Wena o a hesha,' (meaning always on the roll and never wanting to give up).
So when somebody says stop, I just want to believe I can do it.
I am that ambitious person and I think that mindset has actually helped me try to become a better person than I am right now.
Briefly take us through your journey into the movie industry?
It all started when I was in Form 3 in Botswana at Livingstone Kolobeng College.
I had a chance to perform for students there and that is when I built that confidence that 'I believe I can do this'.
So when I finished my Form 5 I wanted to carry on with that passion and move out of Botswana and go to South Africa to further my studies there.
In 2017 I went to SA and got to understand the industry properly.
And how did it go?
In the process of me doing my live performances and honours degree, I happened to be picked in a World War 1 movie called Delville Wood.
I got a lead role as Modise 'John' Mofokeng, a stretcher bearer in the army.
The movie is based on a true story, about a battle that happened in Deville Wood in France against Germany.
It is literally about the SA people who wanted to go to France to fight against Germany.
I understand you are also making quite the mark in theatre? Tell us a bit more about this?
In 2018, while I was still doing my first year, I did a one man show in South Africa.
It helped me discover myself in terms of what I am capable of doing.
I grew and grew and knew I am capable of selling this to the people and make them understand what I can do.
What are you currently working on?
I am currently working on a theatre production called Pherekano.
I started working on it from 21st to 24th November 2021.
It covers about 110 scenes and in SA I got the chance to be sold out with the sponsors who helped it become easy for me to go into this industry and share it with the people.
It became a nominated production in SA and won an award.
That became a motivation for me to bring it to Botswana and make people understand what I am doing in SA; this it is something that I am so passionate about and want to share it with Batswana.
I would love them to come and support me on the 29th January at Maitisong at Maruapula school for Pherekano performance.
I heard you have slashed ticket prices from P200 to P40, why?
The reason we had to reduce prices to P40 was because the sponsors helped us on the basis that it is best people come and see you for who you are and what you do.
So this is us trying to grow the industry to where it is supposed to be.
Interesting. What else are you working on?
I had the chance to create content with Jujuvine and Mjamaica and that will be out soon.
I feel that those two people have actually helped me in the basis of just letting Batswana know who I am, putting the word out there about who Hash is, what Hash means.
There are other projects that we are working on in South Africa but due to contractual obligations I cannot divulge anything more for now.
In time I will talk to Batswana about it, this is a surprise!
Sounds intriguing. Moving away from performing arts, let's get to know the man behind the actor. Do you have a girlfriend and if so any wedding bells in the near future?
I do have a girlfriend but in regards to wedding bells in the near future, no!
I will not do so any time soon because as much as I have things balanced, I still have more to work on and I do not want to bring a baby into this world without having understood what my basis is.
My girlfriend is very supportive and I believe in future I will be able to marry her as she is giving me the strength and the desires of understanding that I can be a better person and make each other better and as times goes on who knows!
What is your deal breaker in relationships?
I am a supiosexual person; you don't need to be smart in books, I need somebody who is capable of challenging me physically, emotionally and mentally, who'd remove me from my comfort zone and kind of person that should be able to let me out.
With my current girlfriend I would say she is doing her best to take me off my comfort zone, I am very blessed to have her.
What are some of the things Batswana do not know about you?
They do not know that I am an award winner in South Africa.
They don't know that my vision is to do my level best to better the arts in Botswana, something I have several ideas for.
They don't know that I am one of a few Batswana to have had a chance to act in a world war movie outside the country and they don't know that I was once bullied in primary and secondary schools due to my lack of confidence.
Also, I do not take anything that will try to take me down.
Finally, Thank God It's Friday, what are you up to this weekend?
I will be rehearsing most of the time until the 29th and just making sure that my production is relatable to the current situation and Batswana.