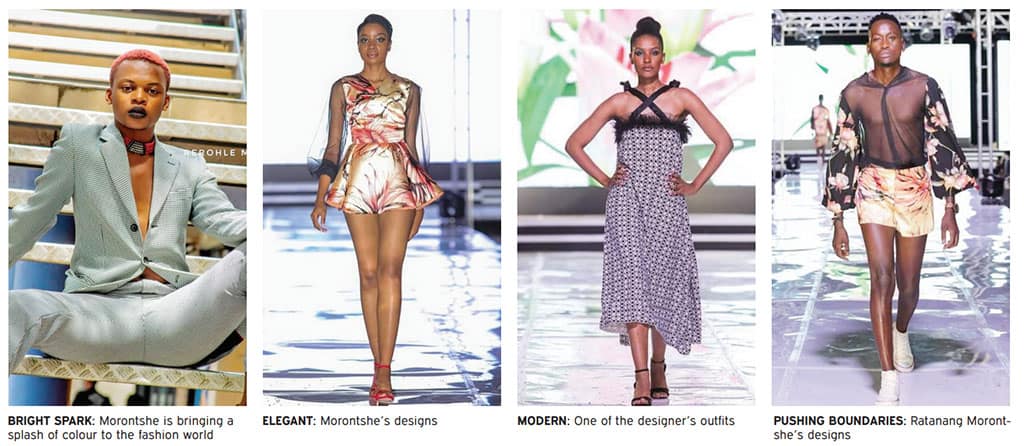 Youth's daring designs stand out in oversubscribed fashion field
During his school days, when most boys his age were out playing football, Ratanang Morontshe was more interested in fashion, spending hours combing through magazines to keep up with the latest trends.
It is a fixation that has grown stronger with time, as the 27-year-old looks to power his way to the top of the fashion industry with his daring designs.
Morontshe, who started Ra-Mor Designs in 2016, tells Voice Money his upbringing has a huge influence on his work.
"What makes my designs unique is elegance and a spirit of creativity. Most of the designs I have showcased so far I wanted to express me, myself, as I grew up in a sassy space at school, at home."
Indeed, those early days were to mould the designer Morontshe has become.
"I grew up in a space full of ladies attention. I was inspired by the craziness of it and it taught me to be more practical. Therefore I am inspired by haute couture and avant-garde style – that drives me to my creativeness. I also like more of drama sense and I show it through my designs."
In 2013, upon completing secondary school, the Mmadinare native set about pursuing a career in fashion and turning his dream into reality.
"I enrolled at Tlokweng Brigade to study Dressmaking and later went to Limkokwing University where I did my Diploma in Fashion & Textile Design. In addition, I am about to complete my Degree in Professional Design at the University," he said.
Shedding light on his business, Morontshe reveals, "Ra-Mor Designs is depicted from my birth name. It mostly offers ladies wear, street wear, dinner wear, bridesmaid wear, runway collections and photography clothes.
"I intend to start designing men's formal wear as well. We also offer basic lessons which can empower aspirant fashion designers in the country."
Despite a lack of finances, having to juggle work with school and the struggle of establishing oneself in a field full of talent, Morontshe's determination and unique style have ensured Ra-Mor's survival.
Working out of his home in Mogoditshane, Block 9, the fun-loving designer has big plans for his enterprise.
"We are currently operating in Gaborone with an option to offer and deliver outside greater Gaborone. People have so supportive of my products and I am going to continue giving the best clothes ever to grow my brand," declared Morontshe, who has previously showcased his creations at the Masa Show Mentorship programme.
"By the grace of God, if this pandemic would draw to a close, I believe that in three years I will have a big operating company with different branches, printing and clothing design,'' concludes the ambitious youth.
(Issue V1229 FRIDAY 24.12.2021)