Stop us if you can!
*Runaway league leaders, GU, sound title warning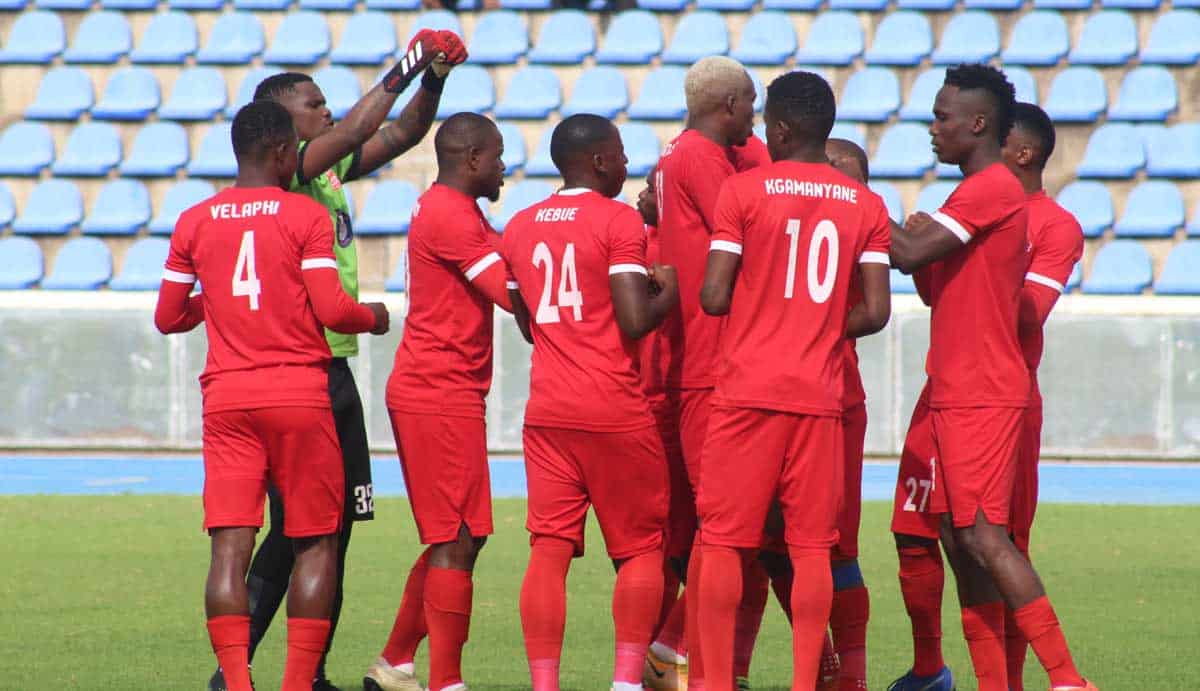 Botswana Football League (BFL) giants, Gaborone United (GU) is a team to beat this season as they remain perched at the summit of the league log with 30 points after 11 matches, and two games in hand.
The season is almost at the halfway mark and 'Moyagoleele' as they are popularly known, are yet to find opposition who can provide a genuine threat to their title ambitions.
They started this season like a house on fire, defeating the likes of Extension Gunners, Township Rollers, Orapa United and Masitaoka who were a potential threat to their title chase.
However, BDF XI who are currently second placed are the only team that hammered them 2-1 which is still their only loss to date.
Prior to the start of the 2021/22 BFL campaign, The Reds secured the services of the impressive Mpho Kgaswane, Thatayaone Kgamanyane and Karabo Phiri who have been instrumental in their good run.
A recent brilliant acquisition is Thero Setsile who has already hit the grounds running as he helped them defeat his former club Orapa United 1-nil as he scored a solitary goal.
Adding to their season's delight, GU bagged the recent edition of the Orange FA Cup in style as they outclassed rookies, Masitaoka by a 3-1 victory in the final.
Voice Sport caught up with a few local football pundits to get their opinions on the league pacesetters.
Kagiso 'Fox' Phatsimo says GU is blessed to have few individuals who are consistent in their display.
"GU are lucky to have Goitseone Phoko, Lesego Galenamotlhale and Thatayaone Kgamanyane. These are the most consistent players in our elite league right now. Phoko has been amazing between the posts and is only second best to Kgamanyane in terms of performance. He matures with every game and is in high spirits, his confidence has seen him make incredible saves in the league, which gives them an added advantage. Kgamanyane is on the best form of his career and his goal tally this season says it all. It is beneficial to have a player you can rely on to finish the attacking moves. Defenders are terrified of the man, he is the icing on the Reds cake. The only worry for GU right now is the uncertainty of injuries and Covid-19. Should the core of the team stay fit and healthy for 80% of the campaign, the Reds will win the League," he said.
Thato Kgosimore believes that GU have made a good impression and that on paper they are favourites to snatch the league title this season.
"The only team that will beat GU is itself because what they are having on paper is impressive. Their latest displays on the pitch is remarkable. They lost a game against BDF XI but that did not affect them as they went all the way to win next games. They have a strong squad, depth and a number of experienced individuals in Tshepo Maikano at the heart of defense, Alphonse Modisaotsile and Lesego Galenamotlhale in the middle of the park and at the top is the evergreen Kgamanyane. I see them repeat what they did in the season 08/09 when they were crowned champions in the last game against Mochudi Centre chiefs," he said.
According to Kgosimore, keeping players happy plays a vital role in bringing results in a club. "One other positive quality at GU is the welfare of the players. They are happy, they are enjoying themselves under the guidance of a youthful assistant coach, Pontsho Moloi.
I see them lifting the trophy as big guns like Rollers, Orapa United and Jwaneng Galaxy are struggling to keep up to the Reds pace," said Kgosimore.
For his part, Mzambo Kgaogano said GU is cruising at the moment as they have assembled a formidable squad.
"GU has assembled a good team. They seem to be much more focused even after winning the FA Cup trophy. They are not letting complacency and excitement get in their way and the last thing they want is dropping crucial points. Furthermore, the technical team is also doing well with their squad rotation, you can see that there are games where they give their youngsters such as Omphile 'Pist' Ramoagi and Gape Thibedi a chance, but still they get the needed maximum points," he said.