Top 10 influential personalities of the year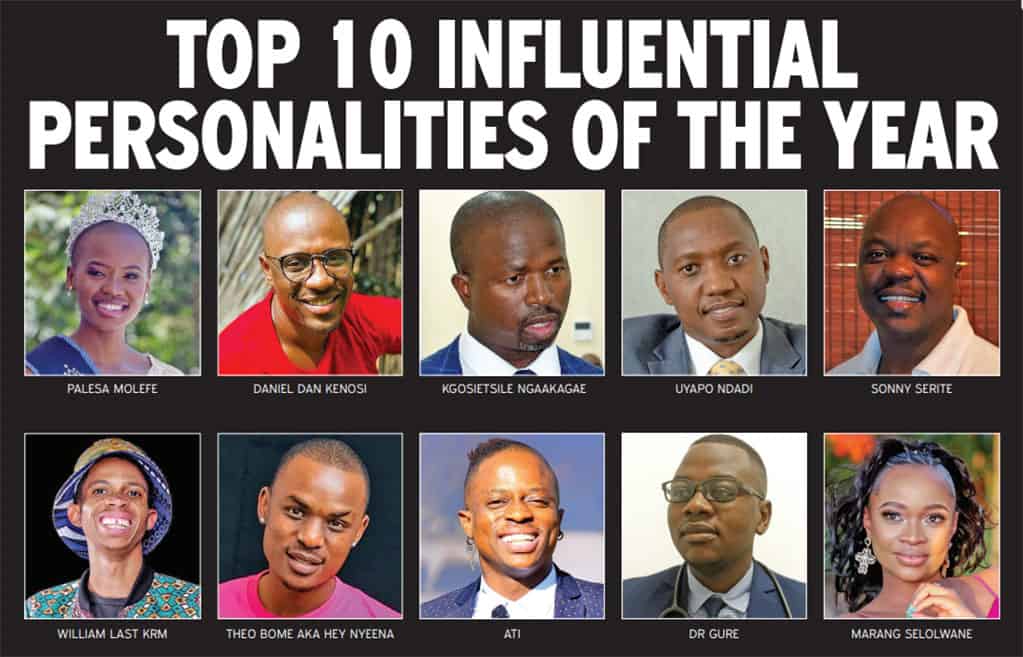 As the curtain comes down on an eventful 2021, we bring you Voice Entertainment's Top 10 influential personalities. SHARON MATHALA compiled the following list of personalities who kept us on our toes with their ability to either captivate, develop or even change our way of thinking and or behaviors.
The following list of names is not necessarily based on the number of following on social media but on an overall impact on our small society. The list is in no particular order
Palesa Molefe (Miss Botswana 2021)
A late entrant on the list is the Miss Botswana Queen, Palesa Molefe. With all that has been happening in the world, Mampale as she is affectionately called on social media platforms is a breath of fresh air for Batswana. For the first time in a long while Batswana are reunited in the call for support of the Mochudi native. The queen has motivated many to believe that there is some good in this world. We have no doubt that in the next year Molefe would have done great things not only for herself but for the country as well, that is if she is given the necessary support of course.
Daniel Dan Kenosi
Often labeled a controversial journalist, Daniel Dan Kenosi is undoubtedly a top influencer of note. Kenosi, known by all across the age brackets has even reached the attention of government and the president. With a huge following, despite deletion of his official Facebook page once, Kenosi often drives debate through exposing and breaking all types of news- even though he is sometimes a subject of headlines himself.
Kgosietsile Ngaakagae
A flambouyant Lawyer, Kgosietsile Ngaakagae is another popular figure that often sets public agenda and leads debate on social media. Ngakaagae often exhibits strong communication and persuasive skills on many serious and important topics such as the death penalty and gender issues. It is however his 'localise the poultry sector' campaign that catapulted him to a celebrity status among Batswana
Uyapo Ndadi
Also a lawyer by profession Uyapo Ndadi is another remarkable key influencer. He boasts a massive following on social media and his opinion matters to many. Whether political or social, Ndadi's comments always attract attention and generate debate.
Sonny Serite
A journalist by profession Sonny Serite is one media personality you can't ignore. In the past his scathing criticism of Government had gained him notoriety but now it is his profiling of businesses funded by CEDA, with individuals telling their stories and inspiring others that is gaining him popularity and landed him a spot on our list.
William Last KRM (William Buffalo Molebatsi)
William Last KRM is another social media icon. His big break came through short online videos and now the comedian turned rapper is one of the most followed personalities with a massive international appeal. He was recently chosen to participate as an influencer at the Dubai Expo and represent the country on the world stage.
Theo Bome AKA Hey Nyeena
'Hey Nyeeena' is a popular figure in the entertainment circles. Theo Bome is now one of the most booked MCs this festive season and his popularity and influence amongst 'ma bad bad' has gained him a spot on this list. His free spirit and down-to-earth personality has gained him followers and fans that worship the ground he walks on or should that be, the beer he drinks? He has been engaged by major companies to market their products and all we can say is 2021 was a good year for him and hopefully, his star would continue to shine in the coming year.
ATI
The Setimamolelo rapper is another force that shook the country in the last two years. Born Atlasaone Molemogi, ATI's movement has hundreds of fans idolizing the talented superstar. Although he is getting fewer bookings this festive, his influence is undoubtedly felt across all ages. By the way, I have never seen ATI with a mask on, even in public, have you?
Dr Gure
'Re bankanya malwapa' the sex doctor and commentator Dr Gure born Thusang Gure is another popular figure in the country. His 'teachings' on sex topics and health have gained him popularity across board and indeed a spot in our top 10.
Marang Selolwane
Wife to famous football star Dipsey Selolwane and new mother to his child, Marang Selolwame makes the second female entrant to our list. Marang who has been in the limelight since her teen TV days has a huge following on social media abut it was her pregnancy journey stories that really gained her momentum She was even engaged by BOMAID to promote their BOMBABY feature. Her composed personality has earned her favour with many companies lining up to use her image and personality for brand influence.
(Issue V1229 FRIDAY 24.12.2021)